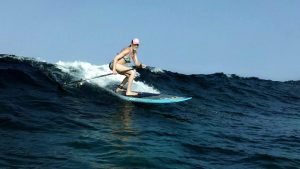 Favorite Board:
Focus SUP Hawaii 8'4″ Rawson Surf SUP
This SUP is designed by Pat Rawson from the North Shore of Oahu. I just love my new High-performance surfing SUP made from their new material coreflex. I surf this board with a Future quad fin set up. This SUP board weighs only 18 pounds and is the most high-performance surfing SUP I've ever used! My favorite board ?
Focus SUP Hawaii Torpedo 8'9″
Love my carbon fiber 8'9″ Focus SUP Hawaii Torpedo SUP. Just started using Future's 'GMAC 5-FIN ' set designed by Garrett McNamara on this board and loving it! This carbon fiber SUP weighs only 21 pounds!
Focus SUP Hawaii 10′ Smoothie
My ultimate favorite all around standup paddleboard! This SUP is great for beginners and experienced riders and the new carbon fiber model weighs only 23 pounds!
Achievements: I've placed in a few longboard competitions here on the big island and will start to compete with a standup board this year. I make and host "Surf & Style from the Big Island with Julie Klaz" surf videos . Everything is filmed using GoPro cameras and I post all videos on my Youtube channel and my Facebook page
Sponsors: Focus SUP Surfboards, GoPro Cameras, Honeygirl Waterwear bikinis, sutralifestyles.com, GInger & Koi Boutique, Kona Boys Surf Shop and Puka Patch. Thank you also to Clif Bars for their gift of boxes of Chocolate Peanutbutter Builder Protein Bars…my favorite!
Website: http://www.youtube.com/user/JKlazPCProductions
Facebook: https://www.facebook.com/julie.klaz
Twitter: @julie_klaz
Instagram: julie_klaz
Home break: the Kona side of the island of Hawaii : Lymans, Pinetrees, etc.
My story: I started to SUP in September 2009 and it really took a couple years longer than I thought it would before I felt like I was any good at it! Getting on my first Focus standup paddle board really helped my SUP surfing go to the next level. I try to film every session & surf adventure on a GoPro and to share the stoke of living in Hawaii and surfing beautiful waves through videos posted on my Youtube channel.
I was a magazine and television model for the first half of my life. I really love it that I've traded in my designer clothing for surfboards and scuba gear! I also have many certifications of instructor for teaching SCUBA, including a NAUI Technical Instructor cert. I also have a Hawaii state record for Blue Water Spearfishing, Aku (Skipjack Tuna) and have been featured in a Spearfishing DVD "Legends of the Blue 2".
I'm stoked to be part of the Puka Patch Mavens…stayed tuned for some Puka Patch videos!