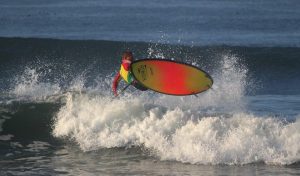 Favorite Board: 8′ or anything fast and smooth.
Influences are: Ivan Van Vuuren, Zane Schweitzer, Kai Lenny
Term: To have the smoothest style out in the water
Achievements: Participated in the Stand Up World Tour, have had articles written about us in newspapers and online magazines, and have participated in many contest and much more to come.
Sponsors: Kings Paddle Boards, Futures Fins, Paddle Surf Warehouse, Bomber Floating Eye-wear, and Victory Rash guards, Coral Reef, Coreban Paddles, Truwest, Premiere and Puka Patch.
Website: http://www.thehughesbrotherssup.com
Home break: Huntington Beach CA
My story: I started to SUP around February 2008 with my brother Daniel. The reason we started was our dad, he wanted to try it and the waves were real small, but the sun was out and the conditions were perfect. So one day we went to Huntington Harbor, we paddled on these huge boards; it was a little harder than it looked. We decided to try paddling in the ocean a couple days later; the surf was around 6" and it was totally glassy, when I paddled out it was 5 times harder than in the harbor. It took me an hour to catch a wave, but once I did I was hooked. I wanted to do it again and again. So that brings us to today, we are always on our SUPs and we have never looked back!